Magic Bus – East Cape, National Park
Okay, so Jessica and I were lucky enough to go on a Magic Bus famil , taking in their newly available East cape, as well as their spanking new stopover visit to National Park. Plus we got a bit more familiar with classic tourist points Rotorua and Taupo. All this in six days of intensive activity sampling! Whew!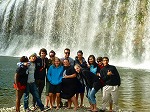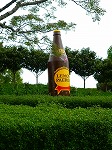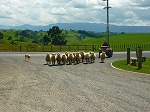 On the first day alone – after pausing at the famous L&P bottle for a group photo – we hobbled around Hobbiton, rafted the white rapids of Kaitiaki, warmed back up in the hot pools of Hell's Gate, then enjoyed an amazing evening of entertainment at Tamaki Maori village – complete with yummy hangi food! Perhaps, no, definitely for me at least, the highlight was the Tamaki bus driver's comic routine and unbelievable knowledge of world languages – you've really gotta get on this guy's bus! Literally! Hilarious!
After a refreshing night at Kiwi paka hostel in Rotorua we headed over to Gisborne, where we were based at the Dive Tatapouri headquarters. Set in a stunning location, the people at Dive Tatapouri not only accommodated us in their dormitories, they took us rock sliding (as much fun as it sounds!), stingray feeding, of all things, and even treated us to an amazing seafood barbecue. Oh my yummy God. If we had more time we might have even gone on one of their shark cage dives (I'm kinda relieved we didn't, honestly!).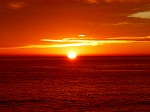 Later there in the evening we indulged in a specially educational wine tasting with Ryan from Long bush, a Gisborne wine company. This predictably turned into quite a long night – so long in fact that those of us with greater endurance even got to see the sunrise, especially special since Gisborne is the first town in the world that can offer this experience. And every day!
The following night we continued up the coast to Magic's 'secret spot' on their East Escape trip, where we got to jump on a team of ten horses and trot out to the wild driftwood-strewn beach. I'd never ridden a horse before – how strange to sit on top of another animal and expect it to drive you around! It takes a little while to build a relationship with your horse, I guess… apparently the idea is to show your horse who's boss, but most of our horses were assuredly the ones wearing the trouser pants. The highlight – after feeling a bit like I was maltreating the horse clumsily trying to urge it to go the where we wanted – was to receive something like a head snuggle at the end when I dismounted my steed. Oh my God hang on wait! A hongi*! That's what it was!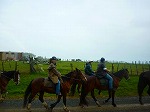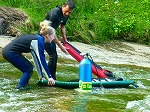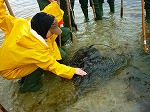 Eastender backpackers also supplied our second hangi* meal that evening. Good kai*! The good old Maori way…
The next day was a pretty long bus ride over to Opotiki then down to Taupo, but we made several fun stops! We checked out two unusual, historic churches – one at Tikitiki, the other at Raukokore; saw New Zealand's largest pohutukawa tree at Te Araroa (where our informative guide was also from); walked this country's longest pier (not so busy as in the past!) at Tolaga Bay; and of course walked up the 700-step hill to the lighthouse on East Cape itself – yes, the easternmost lighthouse in the world. The absolute eastest!
We stayed at the Taupo YHA that night, we wanted to go out and the town, and indeed did, but were mindful too about what our Magic Bus guide Dan had said: that we needed to be leaving at 6:15 the following morning to PICK UP RUBBISH in a forest. I nearly blew the cover on this sneaky scheme when I said to Dan –'But Dan, isn't the Magic Forest in the Mamakus?' But this was just going to be a different forest that we'd be delittering, he insisted. What of course was actually happening was that we were being driven to Taupo Tandem Skydiving for some early morning lunacy. Stepping out of a plane from 12000 feet to certain peril (were it not for the parachutes) before breakfast? A little hungover? Check check check!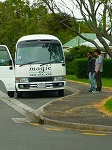 Later that day we bungy jumped slash swung with Taupo Bungy and Cliffhanger, took a freak-out ride on the Huka Falls Jet, then whizzed up the Whanganui River to check out the fabled 'bridge to nowhere'. Whanganui River Adventures have just teamed up with the Magic Travellers Network to bring people to this – one of New Zealand's remotest points – based at Pipiriki.
Naturally we were pretty pooped by the time we checked into National Park Backpackers!
A thousand thank-yous to the Magic crew who chauffeured and chaperoned us: Leo, Moana, Lisa and especially to Dan, our dantastic (sorry) guide. Amazing!
Special vocabulary:
Famil- domestic trade familiarisation trip experience offer
Hangi- Maori style cooking in an earth oven
Hongi- the Maori greeting of touching noses
Kai- the Maori word for food