My recommendation Auckland Activities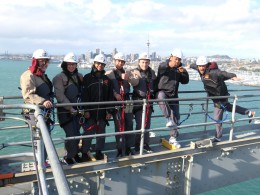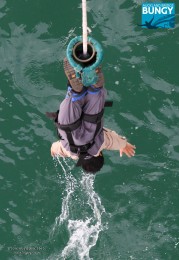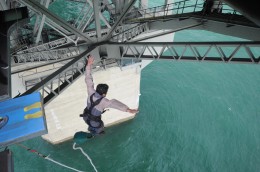 Excitement and feeling of my Kiwi life starts from some very well known NZ travel activities.
Auckland Harbour Bridge Climb: Auckland Harbour bridge is one the great architecture and landmark of NZ. Driving over the bridge regularly is completely different than climbing from the base of the bridge. Lovely and exciting experience to climb the bridge with a nice and friendly group with brief commentary by the leader! Want to climb one more time at least to feel the bending movement of the bridge! Take me one more time…
Auckland Bridge Bungy: My first bungy experience in my life in Auckland!!! Yahooo, I made it. After 3 times of failing to jump, finally I did it! Undoubtedly, unique experience in my life! My excitement was absolutely blasted when I touched the Ocean! Yes, I have touched the Ocean with my Auckland Bridge Bungy. Ocean touched bungy is completely unique and it's only possible from the Auckland Bridge Bungy. Dare to fear and do NOT leave NZ with out gaining fully unique experience of Ocean touched Auckland Bridge Bungy!!! Fun Fun and Adventure….!
Sky Jump: What could be the greater fun and excitement than having the highest Jump in NZ from the lovely landmark of Sky Tower! 192 meter Sky Jump from Sky Tower with 360 degree panoramic view of Auckland city with Go Pro never disappoints your heart. Evergreen memories in the core of my heart…loved this great experience!
Thanks Surf N Snow to arrange everything.
It is absolutely amazing!!