Sheep….
Sheep….
This must be one of the first things that people imagine when they think of New Zealand.
Apparently there are more sheep in this country than human being. My quick google research told me that there is 11 sheep per person in this country!
Why not get amongst it while we are here? Yep, why not.
We took a little day trip to Rotorua to get amongst it. I mean, you can't just find sheep in Auckland central city. But after half an hour drive outside of Auckland, we could already spot few sheep here and there.
It was not enough for us! Our aim for this trip is to get amongst it.
The day trip we joined took us to a place which is more like a farm-wonderland, called Agrodorm.
There we got on the trailer with a sheep sheerer who drove us down the farm.
AND we got our dream come true!
Here is the proof that we did…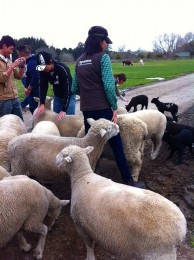 This was way more than a petting zoo! We fed the sheep, met cows, alpacas, llamas, deer and much more. Surprisingly they were all friendly and came to see our group.(Or they knew that we had their food in our hands…)
Farm stay may be on a lot of travellers' must-do lists when they travel to New Zealand, but if you want to enjoy the grasp of what farm life and getting amongst sheep are like, Agrodorme is your answer!