Surftastic!!
I have wanted to surf for longer than I can remember. But there are two definite obstacles to this ambition that put me off for my entire 18 months in Australia:
I am scared of failure. I have friends who have been to surf schools, without even getting their feet up on the board, and have come home bruised and disappointed, which I always felt was my most likely outcome. In addition, I am particularly scared of failure in front of other people, especially people as cool as surfers, when failure in this instance looks something like this: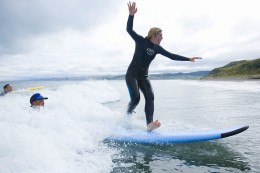 2. I am scared of waves. Not the little things that lap at your feet as you stroll along the beach at sunset, but the huge, monstrous, O-M-F-G-I-Am-Going-To-Die tsunamis that real surfers get their thrills from. I literally have nightmares about getting stuck in tumbling waves and never being able to find my way to air again. Which is why I used to be the "cool observer" on the beach, watching rather than living the action every time Bondi Beach got a little rough.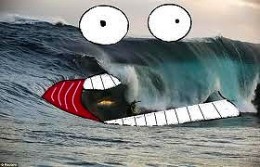 But I did watch. I watched surf lessons, pro surfers, surf competitions, surf training videos, surf movies. My eyes would devour every take-off and the subsequent symphony of perfect pop-ups, beautifully executed cutbacks, even the unfortunate wipeouts. But I never once got on a board. Until now…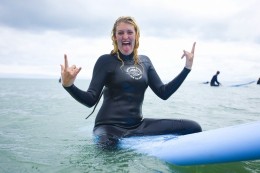 Raglan is a beautiful Bohemian coastal town 2-3 hours south of Auckland on the west coast of Waikato, New Zealand, with not a single McDonalds or Starbucks in sight. Backpackers gather in front of the sushi bar with guitars and ukuleles and play away the afternoon. Kids (and the young at heart) jump off the jetty or the Raglan Bridge into the warm water. The YOT Club provides an extensive music scene Thursdays-Sundays with a great crowd of welcoming locals and international travellers. A creative market sets up shop every second Sunday of the month, with intricate and exquisite homemade wares. The awesome Wahine Moe cruise boat will guide you around the scenic harbour at sunset while providing great music to dance to, a fully stocked bar, gourmet barbecue and even the chance to dive in and take a dip if you desire.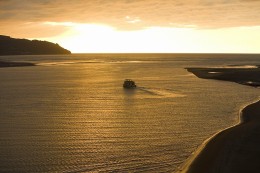 And they surf. Home to one of the longest left hand surf breaks in the world, and featured in the movie "Endless Summer", Raglan produces and attracts world-class surfers and has hosted world championship surfing events. For those wanting to live a relaxed seaside lifestyle in a supportive and stimulating community, it is paradise. But for those of us not lucky enough to be able to spend our lives living the dream, Mojosurf offers a taste for 2-7 days of your life that will embed surfing, and Raglan, deep into your soul.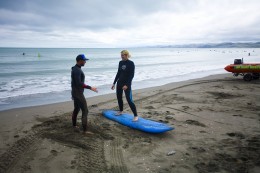 This company has strong links with Raglan – the bus driver I went with grew up and lives there, the sales boss for Mojosurf grew up there, and after just 2 days I was made to feel so welcome that I feel like I've lived there a lifetime too. You will stay at the beautiful Karioi Lodge, in the middle of the New Zealand bush, with breathtaking horizon views from the lookout point, a bushwalk, flying fox, Scandinavian sauna, sustainable garden programme & hens, games/hangout barn, daily shuttles to town, immensely comfortable mattresses, surf equipment and cycle hire, Saturday night barbecue, glow worms lighting up the access drive by night, and a great team of surf-friendly staff. On the 5 or 7-day runner you will also stay in Opoutere on the Coromandel Peninsula for a few nights before hitting Raglan.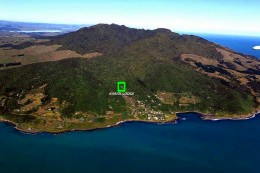 You will surf. This is the Mojosurf guarantee, and the reason I went with this company. They guarantee safety in the water, fully qualified instructors, many of whom surf on the professional circuit, flexible locations to find the best surf for your ability (which in the case of my beginners group was VERY mild waves!), excellent equipment matched to your size, technique and ability by the amazing instructors, video and photo analysis where required, and so much fun your socks will fall off. What's more, and I still can't quite believe this myself, is that someone as uncoordinated and water-shy as I am, with minimal upper body strength, gawky limbs, no water sport experience and no balance, is STILL GUARANTEED to stand up and ride a wave while learning to surf with these guys. I did it on my very first wave: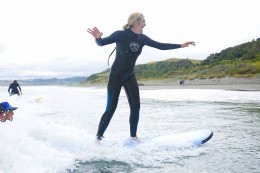 And then I went back and caught another. And another. Every single one of the 28 surf novices that weekend mastered a wave in their first lesson. Every one came out after 3 hours of surfing with a huge smile on their face and a desire to do it again, which we all did, the next day. I can see why surfing becomes a way of life for so many people. It is totally addictive.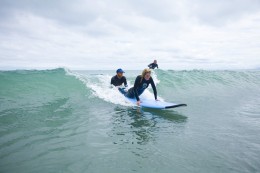 I can fully attribute my success to the amazing Mojosurf way. These guys made me feel at home, gave me the confidence to get in the water and try, and the instruction to succeed. And let me tell you, that first wave, is such a high, you will want to live it forever -  which thanks to the awesome surf photographer in the water, calling out encouragement and capturing those unforgettable first experiences on camera – I can! Back in Auckland, with aching arms and stiff shoulders, I am looking wistfully out of the window, dreaming of the waves and the next chance I'll get to go back and do it all again. But, until then, if you have ever wanted to feel on top of the world in a place that will capture your heart and imagination, go down and say hi from me…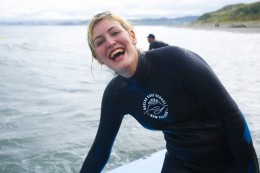 Mojosurf 5/7 day surf tours, 2 day surf runners, and 2/4 day surf & stay packages can be booked through Surf 'n' Snow Backpackers.
 Photos courtesy of Jane Alice BFA, Surfshot
By Sarah Quilter: Receptionist, Travel Agent and Newborn Surfer for Surf 'n' Snow Backpackers, March 2012