Trip to the mountain
Winter season is full on!!!
Rain drops are falling on my head, wind on my face, gray skies everywhere can only mean one thing… winter's here, for all of us to enjoy.
I know, I know, enjoy winter sounds like a paradox, but I know that there's people out there that get what I'm saying, enjoy winter can mean only one thing, WINTER SPORTS!!! and some others that can be done all year round despite weather conditions.
So, true to form and heart into the cold, we packed our stuff, grabbed our Spaceship this weekend and headed down south in the search for the white loath… rooooad triiip!!!!!
Now, the good thing was that only 4 and a half hour away we found Tongariro National Park, well, it wasn't actually finding it, we knew exactly where we were going since we got our Spaceship back in Auckland.
Spaceships are these really cool and comfy camper vans that you can get from Auckland or Christchurch and happen to be very cheap these days since it's winter; and not only that, also they are having heaps of 2×1 deals for different activities, so we were set on taking advantage of those.
As we were really tired from the drive, we decided to make a short stop in The Park www.the-park.co.nz, a cool new complex where you can stop by and get a nice hot shower since you are travelling on spaceships and that happens to be one of their stations.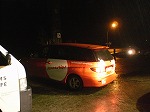 These guys from Spaceships have stations all over NZ which is a really good idea. There you can swap DVD's, get travel advice according to the place where you are and where you are going to apart from extra discounts in accommodation and activities.
The idea was to go in for a quick shower and go back to the van, but after seeing the cosy fire that they had going in the fireplace as we made our way in, we made a slight change of plans and decided to stay there for the night.
We couldn't get into any of the two brand new hot tubs 'cos it was way too late for that, but we decided that it was the best way to chill out after the day of snowboarding we had plan at Rupehu. Rupehu is one of the most famous sky fields in the island, right in the heart of Tongariro National Park.
Next day, early morning wake up, great buffet breakfast and off we went.
Our breaths were taking immediately away by the stunning landscapes everywhere, once you are there you totally understand why this was chosen as one of the locations for Lord of the Rings, this is definitely the Middle Earth.
Mount Doom, excuse me, Mount Ngarahoe was right in front of us and I swear to God that I could see a couple of tiny, tiny figures right on top, it must have been just the sun on my head 'cos I know that they were rescued at the end of the third movie.
Mounts Tongariro and Rupehu complete the scene, awesome; you have to see it for yourself.
We made our way to Rupehu were we spent good two days of great weather (oh my god we where lucky) and snowboarding, it was just perfect 'cos we could get all our gear half price since we were on the spaceship and the 2X1 deal not only included the sky pass to the top but also the renting of the gear, groovy.
We were really keen on staying on for another couple of days at least, but duty calls and we headed back to the city of Sails. Some may think we were sad to come back, and we were, we really were, but it was so comforting to know that there are such great places just a few hours from the city, there, just waiting to be explored by us anytime soon.